This property has now SOLD
This property has now SOLD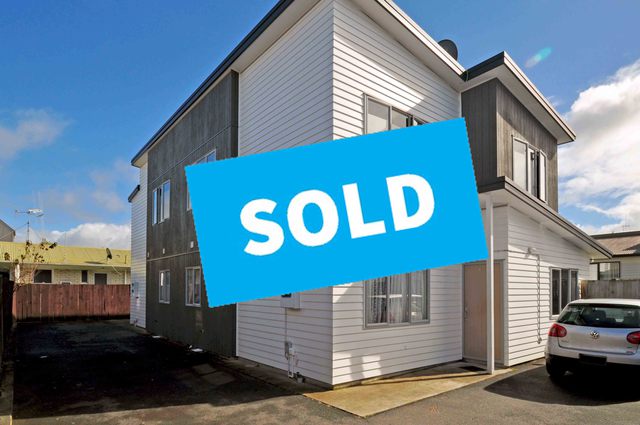 If they are, then take a look at this for their accommodation alternative… Forget run down flats with dripping taps, broken windows and holes in the walls, you're a better parent than that and your precious kids deserve better. They need somewhere they can feel safe, warm and healthy. Why pay rent when you can invest in this modern duplex apartment that offers 4 double bedrooms, 2 bathrooms (saves queues), open plan living and an easy care section with no lawns to mow
Price
445000
Details
Location:
23c Greensboro Street, Hillcrest, Hamilton
Bedrooms: 4
Bathrooms: 2
Garaging: 0
Are your kids starting Uni next year ?
If they are, then take a look at this for their accommodation alternative…
Forget run down flats with dripping taps, broken windows and holes in the walls, you're a better parent than that and your precious kids deserve better. They need somewhere they can feel safe, warm and healthy. Why pay rent when you can invest in this modern duplex apartment that offers 4 double bedrooms, 2 bathrooms (saves queues), open plan living and an easy care section with no lawns to mow
It's a 350m walk to Gate 2 on Knighton Road, so forget buying them a car… investment in your kids education and invest in their future.
This is currently rented at $480/week on a fixed term tenancy till 17th February 2018 so great timing for the start of the Uni year
Kids Leaving the Nest ? – time to invest !
23d Greensboro Street is the adjoining unit for sale as well, so buy one – or buy both, phone Grant now for further details 0274 888 156
Contact Details
Phone: 07 839 5077 DDI
Mobile: 0274 888 156
Fax: 07 834 1000
Email: grant@soldby.co.nz

Location
23c Greensboro Street, Hillcrest, Hamilton
Share This Page With Your Friends